Free Application For Crypto Student Aid
The FAFCSA is led by an online volunteer community of crypto and NFT owners who care about education. If your story is legitimate, then sponsors will drop you NFTs and Cryptocurrencies to help you pay off student debt. The community can give you more until your debt is fully paid.
Totally free and open to anyone with confirmed student debt or default in the United States. WAGMI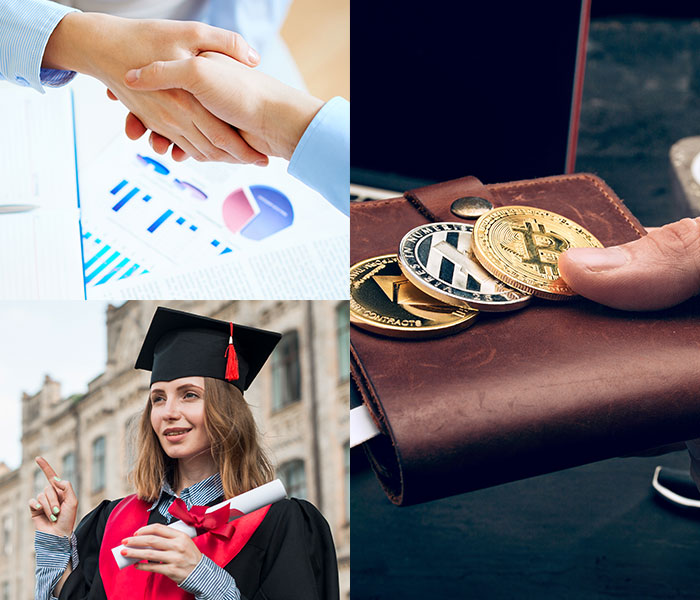 Frequently Asked Questions
Do I need a crypto wallet?
Not at first. But to accept crypto or NFTs you will need a wallet. To get your story published you only need to be human, be willing to share your story, and really need help to pay for your education.
Need help getting a Crypto Wallet?  Mention it in the FAFCSA when you write your story.
What do you do with my data?
We only post first names or verified online identities and won't publish, share, or sell your personal data. We use applicant data to check with creditors to verify debt, and every three months confirm the exact amount owed.  We also ensure those with the most urgent need get the most support by promoting stories based on factors in data like 1) single parent 2) age 3) type of degree 4) amount of debt, and others.  We use social media data to help verify your identity, and if necessary to expose liars and those trying to mislead donors.
If you do not agree with our techniques, want to deceive people, or have concerns, then don't submit your data. 
Synergetics Education LLC works with top law firms worldwide and has full non-disclosure written in our terms & conditions available here.  
FAFCSA applicants and sponsors are not Synergetics Education clients, and there is no contract, but as a FAFCSA sponsor will work with FAFCSA applicants and sponsors to provide world-class measures and ensure data protection. 
The creators of this site take no responsibility for any data voluntarily provided through the FAFCSA site. 
FAFCSA is an empathy-based student debt relief community that connects those in need with those with crypto. The website is financed by Synergetics Education LLC to support the Sustainable Development Goals. Dr. Josh Lange, CEO of Synergetics Education created the FACSA as a website project to enable the flow of positive vibes in education while disrupting the modern slavery of US student debt.
The fiat system has failed 46 million Americans in student debt or default and keeps people in a new form of serfdom for trying to improve their lives and their children's lives. The FAFCSA creates a viable alternative to this system of student debt slavery and enables a new generation of thinking about financing education.
If you want to read Dr. Josh Lange's student debt story, click here. 
Yes of course as a gift up to $10,000. And if students use their donations to pay off debt it is also not taxed. (not financial advice. Do your own research).
Why is FAFCSA only for people in the United States?
We have to start somewhere, and at $1.8 trillion debt affecting 46 million Americans, it's a good place to start.
Why don't we just force the government to Cancel Student Debt?
In Crypto, we believe in love, community, and freedom - not government control.  
Even if the government "cancelled" $50,000 in student debt for each debt holder, there would still be $1 Trillion to pay; also there is $600 Billion in defaults that won't be cancelled. Also there are 6 million new students each year in the US university system.  
Finally, Bitcoin kills inflation, which with the current fiat system is seeing a 6-8% increase on student loan debt costs every year.  It's a "money pit" and to solve it we need all hands on deck. 
Are governments or corporations involved?
No. This is all about the crypto and NFT communities but if companies want to sponsor students then they can do it directly and we will post their logo on the sponsor page. 
Unless required for a criminal investigation, the government will never get access to your data. Private companies and individuals will also never get your data.